I've been expecting a package. This package was shipped via FedEx by their "Express Saver" service. By definition, Express Saver by FedEx has a 3 business day transit time. That's the expectation. In my case, my package was shipped on Monday evening, so FedEx estimated my package would be delivered today, Thursday.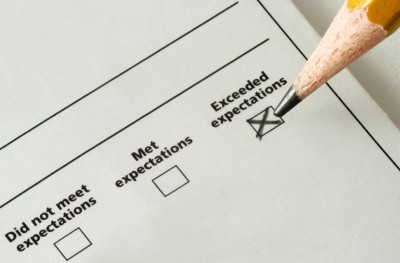 Now, being the eager person I am, I kept track of my package all through the delivery process. Imagine my surprise when the package showed it had arrived in my area yesterday and was on a truck for delivery at 8:26am. Yea! I get my item a day earlier, and FedEx earns some brand equity.
Imagine my disappointment when the very next entry for my package was that it was scanned back into the local facility at 11:09am with the explanation of "Package not due for delivery". What?! My package arrives not 5 miles from my house, and FedEx decides, with a perfect opportunity, rather than exceeding a customer's expectations, they will only meet them.

Granted, if I challenged FedEx on this, they would simply say they were delivering the package within the expected transit time. And they would be correct. However, to have the package ready to go out the door, only to recall it simply because it's "supposed" to be delivered the next day, equals a missed opportunity in my book.
Which brings me to a very simple question – what are you doing to exceed your customer's expectations?